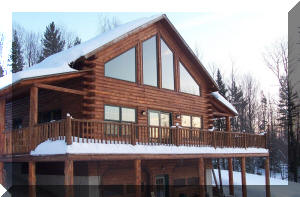 Goodridge Lumber is proud to offer quality white cedar logs from Vermont's Northeast Kingdom.
These logs are:
Naturally Beautiful
Naturally resistant to decay and insects
Naturally possess a high insulating value in the construction of your log home
Goodridge Lumber obtains white cedar logs from their local area (a 70 mile radius), processes them at their sawmill and sells directly to their customers. Sold by the lineal foot, these logs allow the homeowner to build by himself or with a contractor giving flexibility in the building plans and the ability to choose their own doors, windows, roofing and other building supplies.
Goodridge Lumber offers a "D" log with the hand draw shaved,
natural round; available in the groove and spline system(6" stack height) or the tongue and groove system (5 1/2" stack height).

Log lengths are a mixture of 6, 8, 10, and 12 foot. Perma-Chink's Log Boss Screws are used as fasteners, along with log home gasket and Energy Seal, the sealant used between the log rows, butt joints, corners and around doors and windows.
Call for prices and availability.

Construction of a log home is a dream come true for many families. Goodridge Lumber feels that just as important as the building process is information on the care and maintenance of that special investment. Working closely with Perma-Chink Systems, the number one supplier of log home products in the world, has enabled them to provide that information and superior log home products. For all your log home needs from white cedar logs and lumber to Perma-Chink log home products, call Goodridge Lumber at 802-755-6298.